Mending Fences (The Deacon's Family #1)
By: Suzanne Woods Fisher
Publisher: Revell Company
Release Date: February 5th, 2019
Genres: Amish, Christian, Romance
Pages: 336 Pages
Where You Can Buy It: Amazon, Barnes & Nobles, Christian book, and anywhere else books are sold!

Add on: Goodreads
Rating: ★★★★★ (5 out of 5 stars)
~~~~~~~~~~~~~~~~~~~~~~~~~~~~~~~~~~~~~~~~~~~~~~~~~~~~~~~~~~~~~~~~~~~~~~
Every saint has a past. Every sinner has a future.

Luke Schrock is a new and improved man after a stint in rehab, though everyone in Stoney Ridge only remembers the old Luke. They might have forgiven him, but nobody trusts him.
Amos and Fern Lapp allow Luke to live at Windmill Farm under two conditions. First, Luke must make a sincere apology to each person he's hurt–a four-page, single-spaced list. Second, he must ask each victim of mischief to describe the damage he caused.
Simple, Luke thinks. Offering apologies is easy. But discovering the lasting effects his careless actions have caused . . . that isn't so simple. It's gut-wrenching.
And his list keeps growing. Izzy Miller, beautiful and frustratingly aloof, also boards at Windmill Farm. Luke's clumsy efforts to befriend Izzy only insult and annoy her. Eager to impress, Luke sets out to prove himself to her by locating her mother. When he does, her identity sends shock waves through Stoney Ridge.
Bestselling and award-winning author Suzanne Woods Fisher returns to her beloved Stoney Ridge for this brand-new series featuring some of her readers' favorite characters.
My Review
Oh my word, this book was amazing!!! This was my first ever Amish fiction and this most definitely will not be my last. I love how the Amish live, not saying I personally could ever do it, but they live such simple plain lives. Hence the name, Plain people. 😂
Everything in this book keep me flipping pages. I really love how the Amish church was portrayed. I really loved how Amos has a change of mind about Luke. I really, really loved seeing his character development. It was amazing to see just how much the grace of God can change someone for the better.
I loved all the characters in this book, yes even Hank Lapp, Amos' loud, obnoxious uncle. He added quite the humor to the book along with that pesky raccoon. David probably was one of my favorite characters though. He didn't give up on Luke and that just was really powerful to me. How many times do we think that just because someone keeps falling that they are a lost cause forever? Not David. He stuck with Luke through the thick of it. And I highly admire him for it.
I also really liked the plot twists that were thrown in here and all the mini plots. It was a really fun and enjoyable read that didn't grow tiresome or boring. I cannot wait till book 2 comes out!
*I receive this book for from the publisher in exchange for my honest review, I was not required to make it positive*
About the Author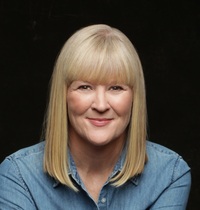 Suzanne Woods Fisher is a bestselling author of Amish fiction and non-fiction. Her interest in the Amish began with her grandfather, who was raised Plain in Franklin County, Pennsylvania. She travels back east a couple of times each year for research. For fun, too.
Suzanne has a great admiration for the Plain people and believes they provide wonderful examples to the world. She has an underlying belief in her books–you don't have to "go Amish" to incorporate many of their principles into your life: simplicity, living with less, appreciating nature, forgiving others more readily, trusting in God.
When Suzanne isn't writing, playing tennis, or bragging to her friends about her grandbabies (so cute!), she is raising puppies for Guide Dogs for the Blind. To her way of thinking, you just can't take life too seriously when a puppy is tearing through your house with someone's underwear in its mouth.