Yours Truly, Thomas
By: Rachel Fordham
Publisher: Revell
Release Date: July 2nd, 2019
Genres: Christian Fiction, Historical Fiction, Romance
Pages: 322 pages
Where You Can Buy It: Amazon, Barnes and Nobles, Lifeway, Christian Book, and anyway else books are sold!
Add On: Goodreads
Rating: ★★★★★ (5 out of 5 stars)
~~~~~
For three years, Penny Ercanbeck has been opening other people's mail. Dead ends are a reality for clerks at the Dead Letter Office. Still she dreams of something more–a bit of intrigue, a taste of romance, or at least a touch less loneliness. When a letter from a brokenhearted man to his one true love falls into her hands, Penny seizes this chance to do something heroic. It becomes her mission to place this lost letter into the hands of its intended recipient.
Thomas left his former life with no intention of ending up in Azure Springs, Iowa. He certainly didn't expect a happy ending after what he had done. All he wanted to do was run and never look back. In a moment of desperation, he began to write, never really expecting a reply.
When Penny's undertaking leads her to the intriguing man who touched her soul with his words, everything grows more complicated. She wants to find the rightful owner of the letter and yet she finds herself caring–perhaps too much–for the one who wrote it.
My Review
This book was so sweet. It made me smile, laugh, and I connected with everything in this book so quickly. I did not read The Hope of Azure Springs, before reading this but I still understood everything that was going on. I connected with the characters, plot, and story line quite well.

Thomas and Penny were such realistic and charming characters. I fell in love with Penny's character in just a few short pages. Her personality is one that I could easily be friends with. We would be quite the dreaming duo. Thomas, sweet Thomas. I also fell for his character quite quickly. His character development throughout this book had me smiling. 

Ms. Fordham's writing style was beautiful and something that I look forward to reading more of. Her writing makes everything and everyone come to life. It makes you feel like you are in the story, living it out. It was easy to picture myself traveling with Penny from DC to Azure Springs. It was easy for me to imagine going through everything Penny and Thomas went through in this book. 

The plot of this book was a lot of fun. It was of course historical fiction, romance, but it also had a bit of suspense and mystery sprinkled in there. This book had my heart thumping in anticipation at what would happen next. It was quite a journey. 
Overall, I really enjoyed this book and I will most definitely be checking out The Hope of Azure Springs and any other books this author publishes in the future! 

*FTC: I received this book from the publisher through Interviews and Reviews in exchange for my honest review. I was not required to write a positive review. All thoughts are my own.*
About the Author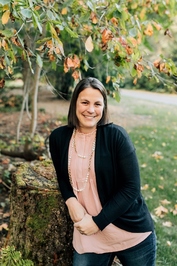 Rachel Fordham has long been fascinated by all things historical or in the words of her children "old stuff". Often the historical trivia she discovers is woven into her children's bedtime tales. Despite her love for good stories she didn't attempt writing a novel until her husband challenged her to do so (and now she's so glad he did). Since that time she's often been found typing or researching while her youngest child naps or frantically writing plot twists while she waits in the school pick-up line. In addition to her passion for storytelling she enjoys reading, being outdoors and seeing new places. Rachel lives with her husband and children on an island in Washington state.