Stitches in Time (The Deacon's Family #2)
By: Suzanne Woods Fisher
Publisher: Revell
Release Date: October 1st, 2019
Genres: Christian Fiction, Amish Fiction, Romance
Pages: 336 pages
Where You Can Buy It: Amazon, Christian Book, Lifeway, and anywhere else books are sold!
Add On: Goodreads
Rating: ★★★★☆ (4 out of 5 stars) 
~~~~
Detachment had worked well as a life strategy for horse trainer Sam Schrock. Until he met Mollie Graber . . .
New to Stoney Ridge, schoolteacher Mollie has come to town for a fresh start. Aware of how fleeting and fragile life is, she wants to live it boldly and bravely. When Luke Schrock, new to his role as deacon, asks the church to take in foster girls from a group home, she's the first to raise her hand. The power of love, she believes, can pick up the dropped stitches in a child's heart and knit them back together.
Mollie envisions sleepovers and pillow fights. What the 11-year-old twins bring to her home is anything but. Visits from the sheriff at midnight. Phone calls from the school truancy officer. And then the most humiliating moment of all: the girls accuse Mollie of drug addiction.
There's only one thing that breaks through the girls' hard shell–an interest in horses. Reluctantly and skeptically, Sam Schrock gets drawn into Mollie's chaotic life. What he didn't expect was for love to knit together the dropped stitches in his own heart . . . just in time.
Suzanne Woods Fisher invites you back to the little Amish church of Stoney Ridge for a touching story of the power of love.
My Review
I loved the first book in this series and I highly enjoyed this sequel. I think I preferred the first book but I loved getting to see Luke and Izzy grow and strength into phenomenal characters. I also loved getting to meet more of Sam and even Mollie, who I think is new if I'm remembering correctly.
The other side characters like Fern, David, and even loud mouth Hank were very enjoyable to read about again. I always love reading parts with Hank i the because his character makes me laugh a lot. David and Fern, like in the last book, were amazing and I always love reading about them.
The message in this book was just as excellent as it was in the first and I loved getting to read more about the Amish community. I always love seeing their way of life and discovering the things that they do differently then we Englishers do.
The faith content was superb as well. I remember liking that a lot in the first book as well. Mrs. Woods does a great job at creating a realistic Amish community, which I greatly appreciate.
Overall, I enjoyed this book and I cannot wait for book 3!
*FTC: I received this book from Revell through Interviews and Reviews in exchange for my honest opinion. All thoughts are my own. I was not required to write a positive review.*
About the Author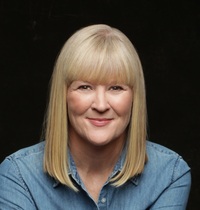 Suzanne Woods Fisher is a bestselling author of Amish fiction and non-fiction. Her interest in the Amish began with her grandfather, who was raised Plain in Franklin County, Pennsylvania. She travels back east a couple of times each year for research. For fun, too.
Suzanne has a great admiration for the Plain people and believes they provide wonderful examples to the world. She has an underlying belief in her books–you don't have to "go Amish" to incorporate many of their principles into your life: simplicity, living with less, appreciating nature, forgiving others more readily, trusting in God.
When Suzanne isn't writing, playing tennis, or bragging to her friends about her grandbabies (so cute!), she is raising puppies for Guide Dogs for the Blind. To her way of thinking, you just can't take life too seriously when a puppy is tearing through your house with someone's underwear in its mouth.