The Way of the Brave (Global Search and Rescue #1)
By: Susan May Warren
Publisher: Revell
Release Date: January 7th, 2020
Genres: Christian Fiction, Suspense, Romance
Pages: 352 pages
Where You Can Buy It: Amazon, Barnes and Noble, Christian Book, Lifeway, and everywhere else books are sold!
Add On: Goodreads
Rating: ★★★★☆ (4 out of 5 stars)
~~~~
Former pararescue jumper Orion Starr is haunted by the memory of a rescue gone wrong. He may be living alone in Alaska now, but the pain of his failure–and his injuries–has followed him there from Afghanistan. He has no desire to join Hamilton Jones's elite rescue team, but he also can't shirk his duty when the call comes in to rescue three lost climbers on Denali.
Former CIA profiler and psychiatrist Jenny Calhoun's yearly extreme challenge with her best friends is her only escape from the guilt that has sunk its claws into her. As a consultant during a top-secret mission to root out the Taliban, she green-lighted an operation that ended in ambush and lives lost. When her cathartic climb on Denali turns deadly, she'll be forced to trust her life and the lives of her friends to the most dangerous of heroes–the man she nearly killed.
Her skills and his experience are exactly what's needed to prevent another tragedy–but in order to truly set Orion free from his painful past, Jenny will have to reveal hers. They'll have to put their wounds behind them to survive, but at what cost?
Leap into action with this high-octane, breakneck new series from bestselling author Susan May Warren.
My Review
Though this wasn't my favorite book by Susan Warren, you can bet your bottom dollar that I still read through this book in a flash and loved nearly everything about it. Mrs. Warren has an amazing talent of writing books that suck you in and won't let you go until the last page and this book did just that. I could hardly put this down last night even though I had to get up early for church.
The characters in this book were real and authentic. Jenny was a very down to earth, who still lived in her past regret. I loved watching her change over the course of this book into the person that God would want her to be. I really liked getting to know her character more. Her friends, Sasha and Aria, were also fun to read about. I honestly cannot wait for Aria's book because I cannot wait to see how Mrs. Warren redeems her story.
I really liked every male character in this book. Ry, Ham, and Jake were all Special Opt. veterans that all had their own demons. Ham was probably my favorite because of his down earthness and his preaching. I know most characters who preach can be annoying, but Ham doesn't do overbearing. It was perfect every time he had a gospel conversation with one of the other characters. Ry was also awesome. I loved his character development. I cannot say too much in fear of spoilers but his transformation was beautiful.
One thing that I wish Mrs. Warren did a tab bit better was the PTSD thing. I have a huge heart for veterans with PTSD and she did a decent job, but I definitely felt like she could have developed it a little bit better. However, PTSD is such a difficult topic to even begin to write about so I just applaud her for her even including it!
Another thing that I felt could have been better was the romance. I loved Ry and Jenny together but I felt like there was just something lacking and I could not pin point what. I still love them together and I am hoping to see them in later books! One thing in the romance department that I had a love/hate relationship was with one of the side characters romance (I won't say who's in light of spoilers). I understand why Mrs. Warren included it, but I felt like it was a tad bit too much. It wasn't the worse though so that was a good thing. I love the characters together so I hope they take Ham's advice and get their acts together!
Overall, I really did enjoy this story as a whole. I cannot wait for Ham's story especially after that crazy cliffhanger!
*FTC: I received this book from Revell and the author in exchange for my honest opinion. All thoughts are my own. I was not required to write a positive review.*
About the Author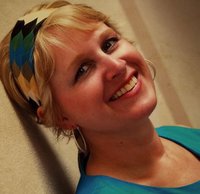 I can't help be amazed at the gifts God has delighted me with – a wonderful husband, four amazing children, and the opportunity to write for Him.
I've been writing as long as I can remember – I won my first book writing contest in first grade! Over the years, writing has become, for me, a way to praise God and see Him at work in my life.
Although I have a degree in Mass Communications from the University of MN, my real writing experience started when I penned the The Warren Report – a bi-monthly newsletter that detailed our ministry highlights.