Two Steps Forward (The Deacon's Family #3)
By: Suzanne Woods Fisher
Publisher: Revell publishing
Release Date: February 4th, 2020
Genres: Christian Fiction, Amish Fiction, Romance
Pages: 320 pages
Where You Can Buy It: Amazon, Christian Book, Lifeway, and anywhere else books are sold!
Add On: Goodreads
Rating: ★★★★★ (4.5 out of 5 stars) 
~~~~
Back and broke in Stoney Ridge, Jimmy Fisher has coasted as long as he could through life on charm, good looks, and deep-set dimples. They always worked just fine for him–until they didn't. His smile has no effect on the violet-eyed beauty he met at the Bent N' Dent, the one with that stunning horse. She's offered him a job, but nothing else.
The last thing Sylvie Schrock King needs around Rising Star Farm is a grown boy working for her, especially her neighbor Edith's son. The woman holds a serious grudge against Sylvie and her son, and hiring Jimmy Fisher will only fan the flames of Edith's rancor. But Sylvie is desperate for help on the farm, and Jimmy understands horses like no one else.
While Jimmy's lazy smile and teasing ways steal Sylvie's heart, Edith is working on a way to claim her land. Has Sylvie made another terrible mistake? Or is it too late to outfox the fox? More importantly . . . just who is the fox?
Writing with both wit and warmth, Fisher delivers a supremely satisfying conclusion to the popular Deacon's Family series.
My Review
Wowza….a lot happened in this book….like a lot. Those last 50 pages were insane man. I went from rejoicing to nearly crying to being happy again. SO.MUCH.EMOTION! Though, this wasn't my absolute favorite, I really did like this book. There were so many aspects that I just loved.
As much as I loved reading about Jimmy and Sylvie, I think I was more invested in Luke and Izzy's story, lol. I really did love Jimmy and Sylvie though. I loved seeing their character development, especially Jimmy's. I loved watching them grow closer to each other and to God. Sylvie annoyed me a little with her misinterpreted scripture, but that wasn't all her fault because she had never read the Bible for herself. Jimmy was a sweetheart who needed a good knock in the head and some things that happened in this book definitely gave him a huge knock on the head.
Luke and Izzy's story was so beautiful and I loved that we continue to follow through these books. I loved their characters in book 1 and 2, but I feel like I connected with them even more in this book. Izzy was so real and her passion to start baby drop boxed was so heartwarming. Luke was just as adorable as he was in book one and I love seeing him as a mature believer in this book. I really do love how I have gotten to see how the both of them have grown and matured throughout this series. It was so beautiful.
Although I am not Amish, I just love reading about their lives in this book. There are a few times that I get a tiny little bit annoyed with them and a few of their rules about the outside world, but I know that they have good reason behind those rules and I don't hold that against them. I honestly could never be Amish, but I just love the way that they live and I love David and his leadership to this community. I know from real-life stories that there are bishops not like this but I know that there are bishops out there like David and it makes me really happy. David just loves the Lord with all his heart and he wants his community to be one that is God-fearing and Bible based. I just love that!
I cannot wait to see what more we get with these wonderful characters, but I pray that Mrs. Fisher is not done writing their stories. I cannot wait for more of her books!
*I received this book from Revell in exchange for my honest opinion. All thoughts are my own. I was not required to write a positive review.*
About the Author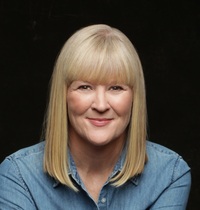 Suzanne Woods Fisher is a bestselling author of Amish fiction and non-fiction. Her interest in the Amish began with her grandfather, who was raised Plain in Franklin County, Pennsylvania. She travels back east a couple of times each year for research. For fun, too.
Suzanne has a great admiration for the Plain people and believes they provide wonderful examples to the world. She has an underlying belief in her books–you don't have to "go Amish" to incorporate many of their principles into your life: simplicity, living with less, appreciating nature, forgiving others more readily, trusting in God.
When Suzanne isn't writing, playing tennis, or bragging to her friends about her grandbabies (so cute!), she is raising puppies for Guide Dogs for the Blind. To her way of thinking, you just can't take life too seriously when a puppy is tearing through your house with someone's underwear in its mouth.