The Heart of a Hero
By: Susan May Warren
Publisher: Revell
Release Date: June 2nd, 2020
Genres: Christian Fiction, Adventure, Romance, Suspense
Pages: 368 pages
Where You Can Buy It: Amazon, Barnes and Noble, Christian Book, Lifeway, and everywhere else books are sold!
Add On: Goodreads
Rating: 5 out of 5 stars
~~~~
Jake Silver may not be able to put the memories of his time as a sniper and Navy SEAL behind him, but at least he can put his skills to use as a part of the Jones Inc. rescue team. Saving the life of pediatric heart surgeon Dr. Aria Sinclair on Denali helped too. Now he can't get her out of his head, and when he hears she is in the path of a hurricane down in Key West he can't help but jump on a plane to rescue her.
Aria has dedicated her life to helping children born with defective hearts. After all, she was one of those children. Now driven to succeed, she lives a lonely, stressful life. One she would have lost on Denali if it hadn't been for Jake. Jake is exciting and handsome, but he's also dangerous, and she's already lost one person she loves. She can't bear it again.
It's not until she finds herself trapped in the middle of a category 4 hurricane that she can admit she needs Jake desperately. With their very survival in the balance, can they hope for a second chance at life . . . and love?
My Review
Y'all I think I liked this book more than I did book one. This book was so amazing. I loved everything from getting to know Aria and Jack more to the plot to the overall messages of this book, which happens to be one of my all-time favorite messages in CF. I love redemption stories so much and this story was one to remember. Mrs. Warren did a fabulous job of weaving Christian messages into this book without it being too preachy or cheesy. It was amazing.
Speaking of amazing, the characters were amazing. I loved watching Aria grow and mature into the woman that we saw at the end. We got the opportunity to see part of her story in the last book, but I loved being one on one with her and her story in this book. Watching her grow and overcome past mindsets was so touching and I loved the way that Jake and Aria helped each other see their worth and see their God-given purpose, it was amazing. Speaking of Jake, I loved him so much. There were multiple times that I nearly teared up while reading from his POV, y'all these two have stolen my heart and I was glad to give it to them.
The plot was one that kept my heart pounding and me flipping pages. I loved it so much. If y'all have not read book 1, I highly recommend it because not only was book 1 amazing, but this one is definitely worth a read!!
*FTC: I received this book from the published through Interviews and Review in exchange for my honest opinion. All thoughts are my own. I was not required to write a positive review.*
About the Author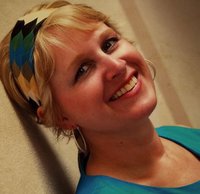 I can't help be amazed at the gifts God has delighted me with – a wonderful husband, four amazing children, and the opportunity to write for Him.
I've been writing as long as I can remember – I won my first book writing contest in first grade! Over the years, writing has become, for me, a way to praise God and see Him at work in my life.
Although I have a degree in Mass Communications from the University of MN, my real writing experience started when I penned the The Warren Report – a bi-monthly newsletter that detailed our ministry highlights.